2018 Buick Envision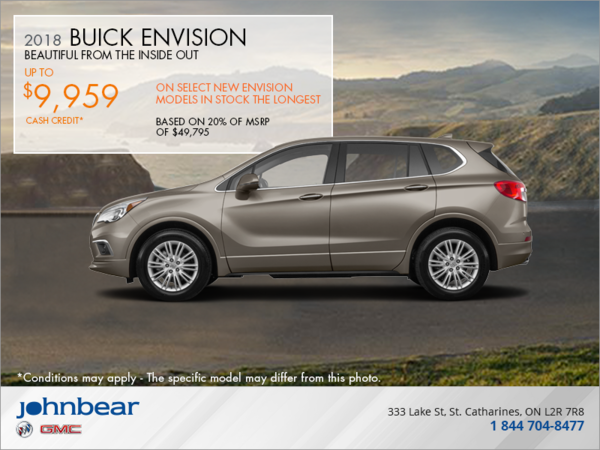 Get up to $9,959 cash credit on select new 2018 Envision models.
Based on 20% of MSRP of $49,795
Some conditions apply. This offer ends on July 31st, 2018.
Hurry up and book your test drive now!
(MSRP) Eligible 2018 Buick Envision: Up to 20% Of MSRP Cash Purchase Credit is a manufacturer to dealer incentive (tax exclusive), valid toward retail cash purchases only on select 2018 Buick Envision models in dealer inventory the longest as of July 4, 2018. Not compatible with special lease and finance rates. By selecting lease or finance offers, consumers are foregoing this credit which will result in higher effective cost of credit on their transaction. Credit is calculated on vehicle MSRP, excluding any dealer-installed options. Credit value will vary with model purchased. On all offers: Models not eligible for these offers are: all 2017 MY or earlier models, vehicles not noted above, and those exclusions noted above. As part of the transaction, dealer may request documentation and contact General Motors of Canada Company (GM Canada) to verify eligibility. These offers may not be redeemed for cash and may not be combined with certain other consumer incentives. Conditions and limitations apply. Void where prohibited. See Dealer for full program details. GM Canada reserves the right to amend or terminate offers for any reason in whole or in part at any time without prior notice.