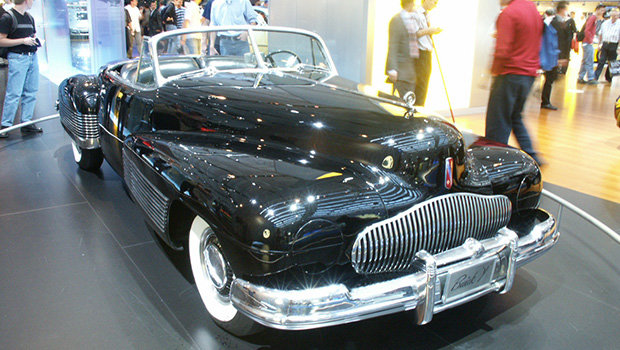 Buick has long been a champion of the concept car.
The concept car: a material exploration of automakers' dreams of the future. The best concepts inspire us and invoke excitement about what's to come. From innovative design to advanced features, they help consumers conceptualize the possibilities of our automotive progress.
Buick has long been a champion of the concept car. In fact, it was a Buick design chief that first introduced the concept car, or dream car, as a means of showing off what the future might hold.
Buick has always committed themselves to building great concepts and taking them as far as possible. Some dream cars made it to production, some evolved into familiar models, and some were outright abandoned. Still, even these leave lasting impressions on car enthusiasts.
Let's take a look at some of the most interesting concept cars from Buick's storied past.
1938 Y-Job
Here she is, the world's first concept car – the 1938 Buick Y-Job. Harley Earl, GM's first executive designer, both fashioned and drove this futuristic ride in downtown Detroit.
The name came from Earl's dissatisfaction with his era's experimental vehicles, or X-jobs. The Y-Job, then, was a step beyond the banal. It was a bold effort to explore the future of vehicle design and features and set the tone for automotive design forever more.
1951 General Motors Le Sabre
Buick's long-running LeSabre line actually adopted its looks and name from the legendary '51 Le Sabre show car. The original concept was designed by Harley Earl as a follow up to the aforementioned Y-job concept.
The Le Sabre concept was the quintessential show car of its decade. A true vehicle of the future, it ran on combined methyl alcohol and gasoline and sported power windows and adjustable seats. The Le Sabre also displayed a rain-sensing automatic crop top that raised itself in a storm.
While the features were certainly fancy, the Le Sabre's glory lay in its design. The jet-plan inspired front end and back fins would inspire a generation of
1956 Centurion XP-301
Crafted by legendary GM design chief Chuck Jordan, the Centurion took the 1956 Motorama by storm.
The aerodynamic Centurion featured deeply recessed headlamps and outstanding rear fins that would become Jordan's trademark through the late 1950s.
While the transparent bubbled roof was (and is) an eye-catching feature, the Centurion's coolest feature was its early rear camera. A small, back-facing camera in the rear fed live video to a dash-mounted TV, alerting drivers of traffic and object behind them. This is becoming commonplace now, but was a truly revolutionary idea 60 years ago.
1954 Wildcat II
Buick introduced three concepts under the Wildcat moniker from 1953-55. The Wildcat II showed off a radical front end that featured flying-wing fenders scooped over exposed front wheels and suspension.
This big cat sported big features. Though only 90 inches tall, the Wildcat 2's wheelbase was right at 100 inches. With a 220-hp V8, it matched any serious sports car of the era in power - though the Wildcat III was much larger, sporting a V8 that pushed 280 horses.
This line of concepts was Buick's first real performance vehicle. However, by the time the Wildcat made production in the early 60s, it was quite a bit larger and closer to a full-size luxury sedan.
1985 Buick Wildcat
The Wildcat as concept has long been Buick's ace-in-the-hand for displaying the brand's ability to escape stuffy perceptions. The 85 Wildcat was perhaps Buick's most ambitious attempt to show off a futuristic supercar.
One look at the Wildcat and you know it's not your dad's driving machine. The low, aggressive stance, bubbled roof, and organic lines made this eye-catching vehicle stand out within Buick's lineup.
But it wasn't just the Wildcat's looks that set it apart. The concept was a 2-seat, midengine supercar with a 3.8L V6 boasting nearly 250 horsepower at 6000 rpm. The '85 'Cat flaunted it, too. Rather than hide its engine away, Buick placed it behind a transparent bubble cover for the entire world to see. Impressively, this Wildcat concept also touted full-time 4-wheel-drive.
For all its carbon fiber and fiberglass, powerful engine, and stunning looks, this iteration of the Wildcat never made it to production.
2013 Riviera
Let's jump ahead thirty years to the 2013 Shanghai Auto Show, when Buick debuted their 2013 Riviera concept.
The Chinese-designed Riviera concept was meant to evoke flowing water, setting the tone as a study in Buick's future design. This concept's show stopping gull wing doors and fastback slopes aren't likely to make it to production Buick's any time soon, but the propulsion technology certainly might.
The Buick Riviera concept displayed a new (to Buick) hybrid plug-in / gasoline system that allows drivers to choose either fully electric or hybrid propulsion.
Other awesome features include all-wheel drive, electronic dampers, precision cameras, heads up display, parking assist, and anything else you'd expect from a premium luxury vehicle.
It's clear that Buick is dedicated to showing off their best concepts year after year. That's only part of what has made it a successful auto company for over 110 years.
Want to keep the discussion going? Tell us your favorite concepts of the past or talk to us about some upcoming features that you can't wait to see!